How to deal with Malodours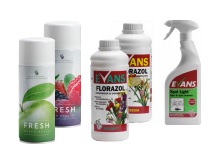 Malodours can give the impression that an area isn't hygienic, even if everything is spotlessly clean. Odour Neutraliser kills the bacteria that can cause these odours. It can be used on a variety of surfaces including carpet, fabric and hard surfaces.
Wild berry and linen scents are popular choices at the moment as they are reminiscent of outdoors freshness. Dry formulation air fresheners that are suitable for use on fabrics, curtains and upholstery are a great way to overcome malodours and neutralise tobacco and cooking aromas.
Fresh, one of Evans Vanodine's green tick products, comes in a 750ml trigger spray and can be used both as an air freshener and for wiping down hard surfaces, it can also be added to carpet shampoo solution.
For further information on any of these or other products, please contact our friendly sales team.
To see a selection of odour neutraliser products available , please click here.
For more information on Evans' Green Tick products, please click here.