Catalogue
Evans-Crusader-Fabric-Conditioner-10lt
Evans Crusader Fabric Conditioner (10lt)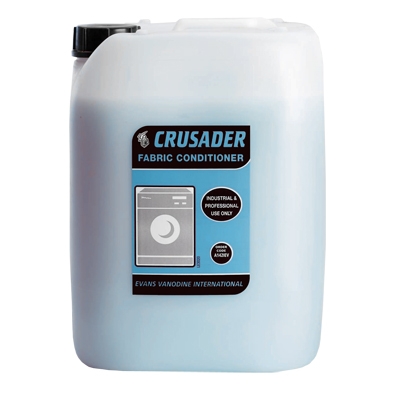 Stock Code:
ECRFC
Pack Size
10ltr
Product Information
Evans Crusader Laundry Fabric Conditioner is a very effective fabric softener developed for use in 'on premise' laundries, in hotels & healthcare establishments. For best results use in conjunction with Evans Crusader Laundry Liquid. Also available in 20 litres

- Effective on most fabrics including delicate articles.
- Makes clothes pleasant to wear, bed linen & towels soft to use.
- Reduces static cling in synthetic material.
- Leave cottons & polyester cotton less creased and easier to iron.
- Contains an appealing long lasting perfume.
- Supplied in natural polythene drums to allow a visual check on contents.
Crusader Fabric Conditioner should be dosed into the final rinse of the laundry programme at 5ml/kg of dry fabric. For larger machines it should be dispensed via a suitable dosing pump. Alternatively, it may be poured into the dispensing drawer.
DO NOT POUR DIRECTLY ONTO FABRICS.
Customers who bought this also were interested in..