Catalogue
Evans-Crusader-Laundry-Liquid-10lt
Evans Crusader Laundry Liquid (10lt)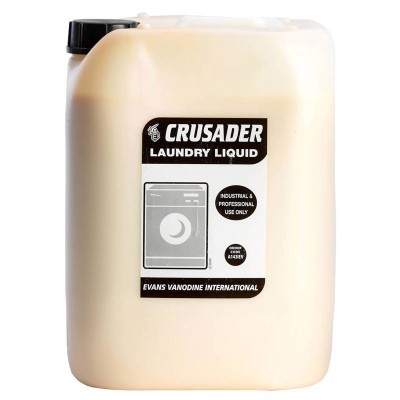 Stock Code:
ECRLL
Pack Size
10ltr
Product Information
Evans Crusader Laundry Liquid is a biological laundry liquid detergent formulated to work at all temperatures in hard or soft water. Developed for use in on premise laundry installations in hotels & healthcare establishments.
Also available in 20 litres

- Concentrated low foaming laundry liquid.
- Contains a blend of detergents and optical brighteners to provide a brilliant cleaning performance.
- Outstanding washing ability at all temperatures in hard or soft water.
- Suitable for use on all fabrics.
- Supplied in natural polythene drums to allow a visual check on contents.

Crusader Laundry Liquid should be dispensed automatically via a suitable detergent dosing system.
Customers who bought this also were interested in..