Catalogue
Evans-Disperse-Drain-Cleaner-5lt
Evans Disperse Drain Cleaner (5lt)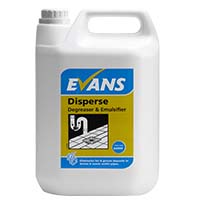 Stock Code:
EDIS
Pack Size
5ltr
Product Information
Evans Disperse Concentrated Emulsifier / Drain Cleaner is a highly concentrated degreaser for emulsifying fat & grease deposits in kitchen drains & waste outlet pipes. It will quickly disperse drain-blocking waste deposits & when used on a regular basis will help achieve reliable, long-term protection from problem drains. For use in kitchens, food factories, restaurants & butchers shops.

- Highly concentrated 100% active ingredients.
- Safer alternative to traditional acid & caustic based drain cleaners.
- Helps keep outlet pipes, drains, grease traps, waste disposal units, gullies & refuse chutes free from the build-up of grease & fat.
- Overcomes malodours.