Catalogue
Evans-Oxy-Laundry-Destain-Powder-1kg
Evans Oxy Laundry Destain Powder (1kg)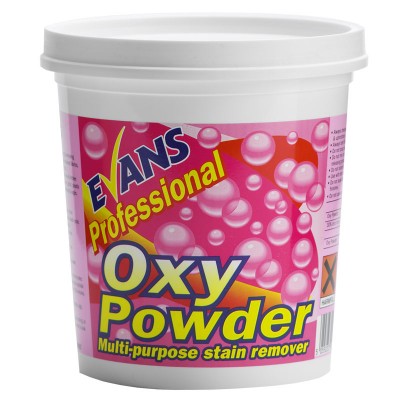 Stock Code:
EODP
Pack Size
each
Product Information
Evans Oxy powder is a highly effective multi purpose powder for cleaning & removing stains, grease, mould & heavy soiling from white & coloured fabrics, upholstery & carpets.

Oxy powder is extremely versatile as it is also suitable for use on kitchen worktops, chopping boards, floors, tiles, paving stones, grout, plastic, garden furniture, rubbish bins and even animal baskets & cages.

- Quick dissolving powder.
- Removes the most difficult stains including fruit juice, coffee & tea.
- Suitable on white & coloured fabrics.
- Ideal for use wherever bleach is not acceptable.
- Supplied in convenient 1kg bucket with scoop.