Evans Sink & Drain Cleaner (2.5lt)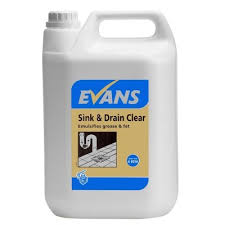 Stock Code:
ESDC
Pack Size
2.5ltr
Product Information
Sink & Drain Clear is a grease and fat emulsifier that is a powerful, high active liquid, clears grease, fat and food deposits.
Maintains drains to reduce build-up and blockages. Unperfumed, suitable where food is handled. For use in kitchens, washrooms and shower areas.

- Emulsifies & quickly clears grease & fat.
- Helps to keep drains & gullies free flowing.
- Will reduce build-ups & blockages.
- Controls malodours.
- Suitable in kitchens, washrooms & shower areas.
WASTE BUILD UP & REGULAR MAINTENANCE:
Pour 250ml into drain or down sink, once or twice a week.