Catalogue
Evans-Trigon-Unperfumed-Hand-Soap-5lt
Evans Trigon Unperfumed Hand Soap (5lt)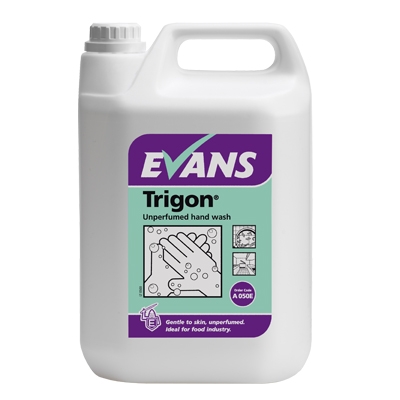 Stock Code:
ETRIS5
Pack Size
5ltr
Product Information
High quality unperfumed hand wash with an anti-bacterial ingredient.
Ideal for use in food preparation & processing areas, nursing homes, schools & hospitals.
Suitable for use in all types of soap dispensers.
- Provides a rich creamer lather and a thorough cleansing action.
- Mild & gentle to skin.
- Contains emollient for added skin protection.
- Suitable for frequent hand washing, to help prevent cross infection.
- Unperfumed, suitable wherever food is handled.
- Available in 500ml free standing bottle c/w pump dispenser under the Feelings brand name.
- Wall bracket available for 500ml.
- Packed in 5lt bottles for extra economy.