Catalogue
SCA-Foam-Soap-Dispenser-white
SCA Foam Soap Dispenser (white)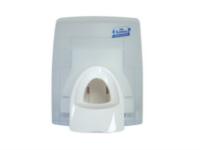 Stock Code:
DISFSW
Pack Size
each
Product Information
Takes the Lotus/SCA 800ml foam soap cartridges. Use either Pink Lotion or Bactericidal Soap Cartridges.

New pump nozzle with every new cartridge. Push lever allows 'elbow' operation.

Particularly suited to be used in areas when hygiene is important such as Nursing Homes and Kitchens.