Towel Hand 50cm x 90cm - DEEPDYE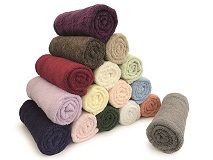 Stock Code:
TOWHAND2
Pack Size
6
Product Information
Evolution towels are specially designed to help reduce laundering costs.

The unique cotton rich construction has been developed to alleviate snagging and minimise shrinkage.

Evolution towels are exceptionally durable as well as luxurious.

Proven quicker drying times, Evolution towels help to lower carbon emissions and reduce laundering costs.

Each towel is exceptionally colourfast and can be thermally disinfected with confidence.

Deep Dye Colours are:
Navy, Claret, Bottle Green, Chocolate & Plum
Customers who bought this also were interested in..