Hand Hygiene in the Food Industry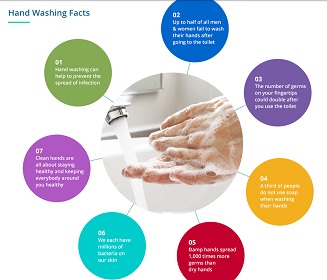 Hand hygiene is essential in food preparation areas. Knowing which products to use and making sure personnel wash their hands correctly is of the upmost importance to reduce the risk of cross contamination.
The Food Standards Agency states that all staff should wash their hands properly:
when entering the food handling area, e.g. after a break or going to the toilet
before preparing food
after touching raw food, such as meat/poultry, fish, eggs and unwashed fruit and vegetables
after handling food waste or emptying a bin
after cleaning
after blowing their nose
after touching phones, light switches, door handles and cash registers, or other surfaces that could come into contact with staff handling raw food
Staff should dry their hands thoroughly on a disposable towel – harmful bacteria can spread more easily if your hands are wet or damp. Use the disposable towel to turn off the tap.
For further information on hand hygiene read the Food Standards Agency Food Hygiene Guide here
Read the Evans Vanodine hand care guide here
Or contact our friendly Sales Team on 01202 827666