New Bambino Cleano - bucket free cleaning system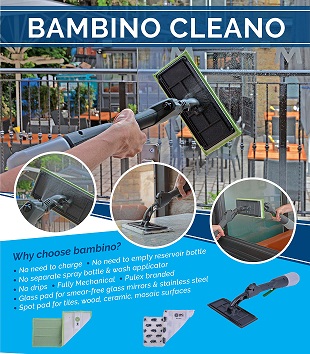 A bucket-free indoor window cleaning system, the Bambino Cleano is suitable for quick and easy cleaning of windows, glass panels, mirrors & table tops. Also has a spot pad for tiles and ceramic surfaces.
Free of batteries or electrical connections, the Bambino Cleano is an entirely mechanical tool. Using the integral pump system, water is sprayed onto the surface in a fine mist ensuring a streak free finish every time.
To find out more please contact our friendly sales team