Catalogue
Blue-2ply-Centrefeed-Roll
Blue 2ply Centrefeed Roll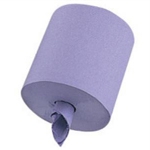 Stock Code:
CFEEDB2
Pack Size
6x150m
Product Information
Blue 2 Ply Centre Pull Rolls packed 6x150m
These centre feed rolls and are ideal as a general paper wipe.
Paper can be taken from the outside of the rolls or from the centre by removing the core. Once removed the paper pulls out from the centre in a tube format.

Available in blue or white 100% recycled paper.



Customers who bought this also were interested in..