A family run business with friendly customer service, Robert Scott & Sons first started trading in 1932 and are proud to still be manufacturing cleaning materials in Lancashire, UK.
Robert Scott & Sons provide a wide range of professional cleaning products, including microfibre and wet mopping systems as well as traditional woven and non woven cloths.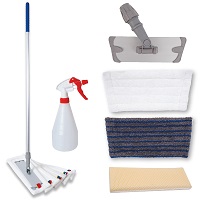 The Bucketless Mopping System
With no bucket needed, this microfibre mopping system is a quick, easy and hygienic way to clean non-slip, tile and wooden floors. It can be used dry or with a water spray and dries quickly, helping to prevent slips and trips.
The Velcro microfibre mops are washable and easy to remove. For more abrasive cleaning, the scrub mop or fastnet sponge can be used. The multi angled head makes it easier to clean those hard to reach areas.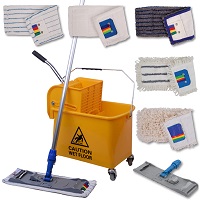 Microspeedy Microfibre System
A complete flat mopping system that combines traditional flat mopping with the modern technology of microfibre.
The tiny fibres in microfibre mops actively lift up dirt and grime and keep it locked into the mop until rinsed clean, this means that fewer chemicals are needed, making microfibre more environmentally friendly than traditional mopping.
Designed for use with 40cm flat mop heads with an impact resistant, highly durable 'break frame'.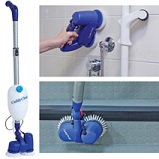 Caddy Clean
®
A compact, lightweight, versatile scrubbing machine that can get to places where larger, heavier mains powered machines cannot get to. Designed to optimise productivity, the low weight practical design is ideal for cleaning areas where usually only manual methods are used.
Use for hard to reach areas around toilets, baths and staircases. The detachable handheld kit makes it easier to tackle restricted areas.
Proud to be associated with